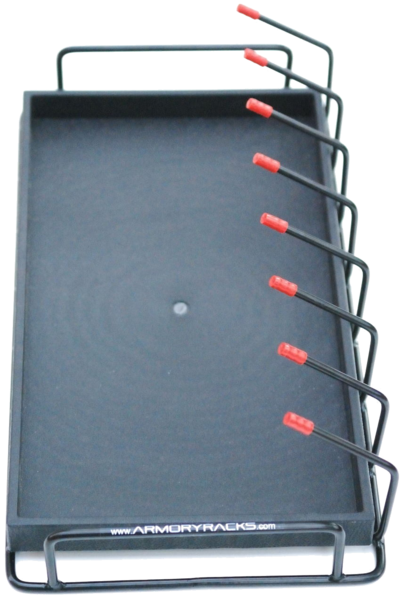 8 Gun Armory Rack - Scratch & Dent (Comes with Tray)
Regular price $55.09 $41.31 Sale
All racks are brand-new, and are being offered at significant discounts because of cosmetic flaws.  Cosmetic flaws can include chipped powder coat (usually on the corners), uneven or thick powder coat, minor variation in hanger length, or scratches and handling marks from product-to-product contact in shipping.   Each item has been thoroughly inspected to ensure that they function as designed.  No warranty is implied or given to Scratch & Dent items, they are sold AS IS and can NOT BE RETURNED.  Quantities are limited and orders are filled in on a first come, first served basis.
These 8 Gun Racks are being sold as scratch and dent due to having a thick powder coat preventing .22 caliber barrels from fitting on the racks.  Larger calibers will work fine. 
Optional Neoprene Hanger Coating 8-pack may be added.  Optional large PVC Mesh Liner or Velvet Liner may be added to the tray.
Due to the nature of a Scratch and Dent, we are unable to provide a detailed picture of every cosmetic flaw an item may have. We feel that the price reflects the condition of the products. 
Store up to  8 handguns per rack, mix revolvers and semi-autos



Measures - 4 3/4" H x 16 1/2" W x 8 3/4" D - without handguns
Pocket-pistols to full size handguns are supported

Quality constructed coated welded metal rack with thick black powder coating

Optional increased barrel and crown protection with an add-on neoprene hanger coating